Having an attractive, up-to-date photography portfolio website is one of the most important things we can do for our marketing. I've already written about why you need to have an online portfolio — but you aren't done when you hit "publish" and put your work out there for the world to see.
The Importance of Adding New Photos
It's important to keep the photos in your portfolio fresh; your local grocery store keeps its produce fresh by rotating in a new product, and you should too. New photographs keep potential clients interested, and past/current clients engaged with what you're working on. Curating your portfolio shows you're active in your photography and marketing, and that you care about your work. Even if you have a blog and post often in it, know that some of your visitors will skip the work you do there and head straight for your portfolio.
I try to upload a good diverse selection of photos from a range of clients. I do my best not to repeat the same type of photo twice. For instance, in my portraiture section, I don't want six different headshots on the same backdrop. I want one really good one. This is also a great chance for you as a creative photographer to show how you can come up with different shots/scenes/backdrops for a similar type of photograph.
What's more, since we're learning and improving as photographers, this is an easy opportunity to showcase new photos that can draw your clients in. Plus, if you have any new equipment (like a fancy new Panasonic GH5), you'll want to post what you can deliver with that!
Keep Your Information Up-to-Date
While you don't have to think about this quite as often, be sure that your About page, and any other "static" non-photo pages are up-to-date and relevant. For me, that includes my biography and client list. If I'm proud of shooting for a certain client, I am sure to put them on my client list. Doing so can help potential clients with the "wow" factor, in that they might be impressed by you photographing for that client.
Make Sure Your Design is Modern and Appealing
Even if you aren't a designer, it's important to make sure your website is easy-to-use and visually appealing. Your navigation should be clear and simple, both on desktop computers and mobile devices. It may be redundant to mention it, but make sure your best photos are front and center.
Just last month, I spent a weekend and redesigned my website. I chose a new theme, new photos, and re-wrote everything. It was a lot of work, but it's already helped me in getting new clients.
I organized my website by photography topic and then chose up to 20 photos per topic to showcase. Any more than 20, and you risk viewers feeling overwhelmed.
There are several platforms that offer themes that can help you get a step ahead, and make your life a lot easier. I use Squarespace for my main portfolio, but Adobe Portfolio and WordPress are also some great options.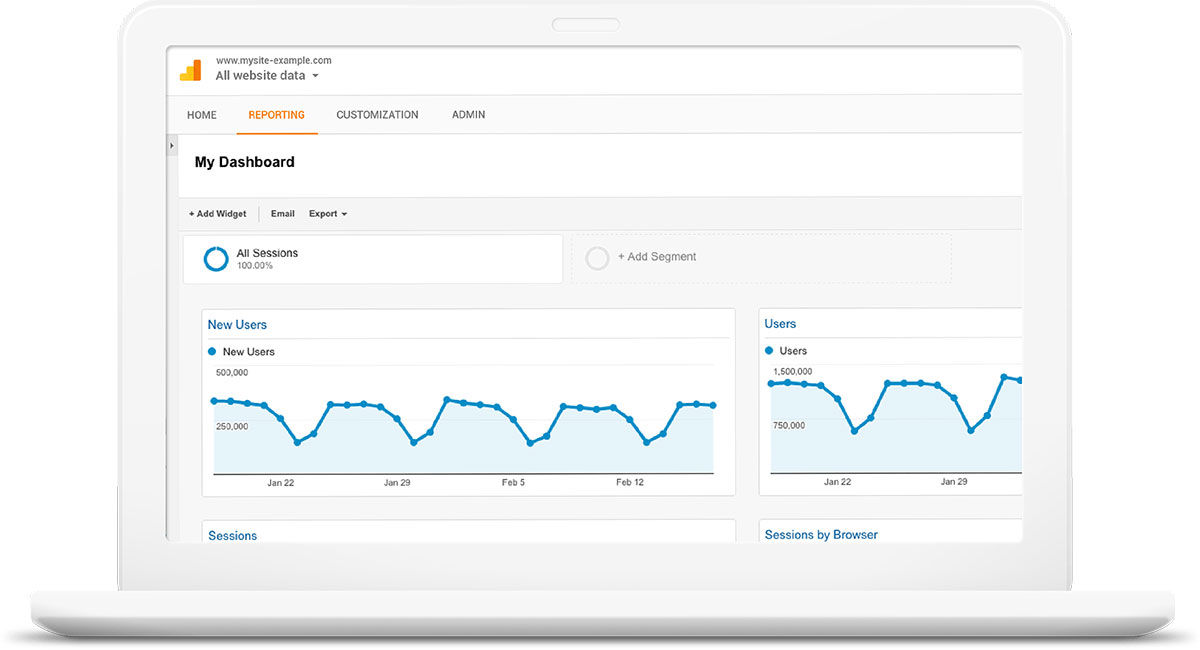 Check Your Analytics
Some platforms have traffic statistics built in, but regardless of that, I highly recommend connecting Google Analytics to your site. This will give you in-depth information about what parts of your website are the most visited, as well as ones that might need some work. It's super valuable in determining what content your viewers are interested in.
Coming Up with a Plan
Refreshing your website isn't something you need to think about constantly. As a former web designer, I probably think about it more than most people.
Recently, I've come up with a plan so that I can refresh my website without it taking over my life.
I put in my calendar "Website Refresh" on the first day of each quarter. During this time I look at my website and see if there are any photos I should upload to that specific category and if there's any that I should remove. If I already have a photo with two people smiling at the camera, I might want to replace it with a similar photo, especially if certain aspects of the photo are better (like the background, sharpness, crop, etc.).
Conclusion
If you haven't worked on your website in a while, take a day to do so. Doing so shows you're relevant, and that you care about your photography business. And you might be surprised in that it might lead to more potential clients coming your way.
For more on Photography Marketing, see our weekly column.