Adobe MAX starts today. This year, the conference is virtual and free! Besides the keynotes and courses from renowned instructors, Adobe is releasing updates to their software. Let's take a look at what's new with Adobe Creative Cloud video software.
See the updates for: After Effects | Premiere Pro | Premiere Rush
After Effects
Improved 3D design space workflow
Adobe After Effects receives an update to the 3D design space to improve workflow efficiencies. I'm most excited about improvements made to the cameras, which will allow for faster navigation in 3D space. You can now orbit around a specific point on a layer or scene and perform easier camera moves thanks to more intuitive controls.
3D Transform Gizmos will allow you to position, scale, and rotate objects within 3D compositions. These new features are available today.
Roto Brush 2.0
Roto Brush 2.0 is now available in After Effects. If you aren't familiar with Roto Brush, it helps you save hours of rotoscoping by automatically tracking a foreground object that you select.
Roto Brush 2.0 improves upon the earlier version by using Adobe Sensei technology to better and more intelligently track selections frame to frame as they move over one another, or as the camera moves. Edge decontamination cleans up your track. This feature now moves out of beta and into the latest release.
Beta features
After Effects also has some new features available in the public beta version. This includes a new real-time 3D rendering engine that allows for a better draft preview to help you make quicker creative decisions. You can navigate a scene faster and get that real-time response you desire.
3D Ground Plane is another beta feature that offers better spatial relationships. This provides a horizon line and vanishing point that works with the grid for improved orientation and can snap to align objects.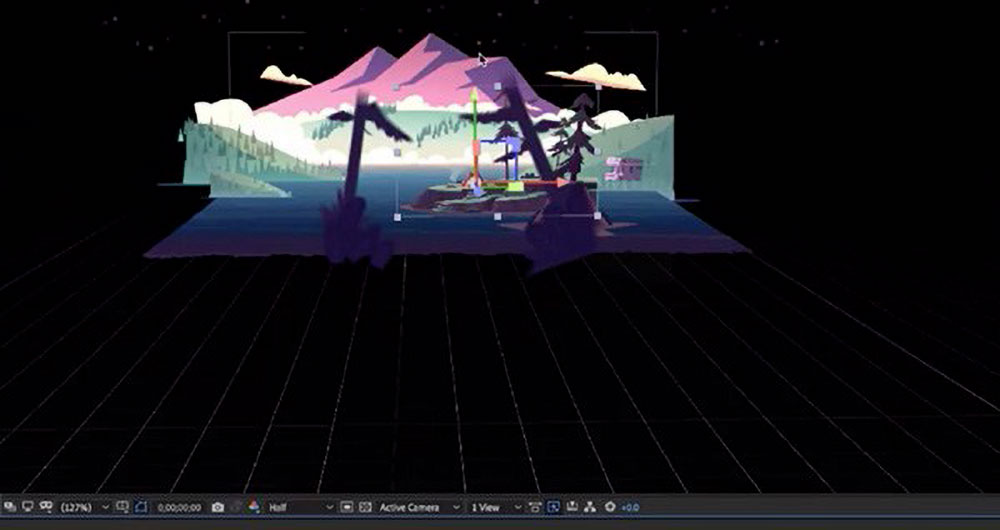 Premiere Pro
Speech to Text
Premiere Pro introduces a new Speech to Text feature. While this feature is only available as an early access option (contact Adobe to apply), I'm excited knowing that the ability to automatically create a transcript from a video and generate automatic captions (powered by Adobe Sensei) is just about here. This feature will save time and money!
You can create a transcript by auto-detecting dialogue, using tagged audio from Essentials Sound, or from a specific track. It supports over a dozen languages and can support multiple speakers. Adobe uses machine learning to accurately detect the pacing to the speech to match it with the video timecode.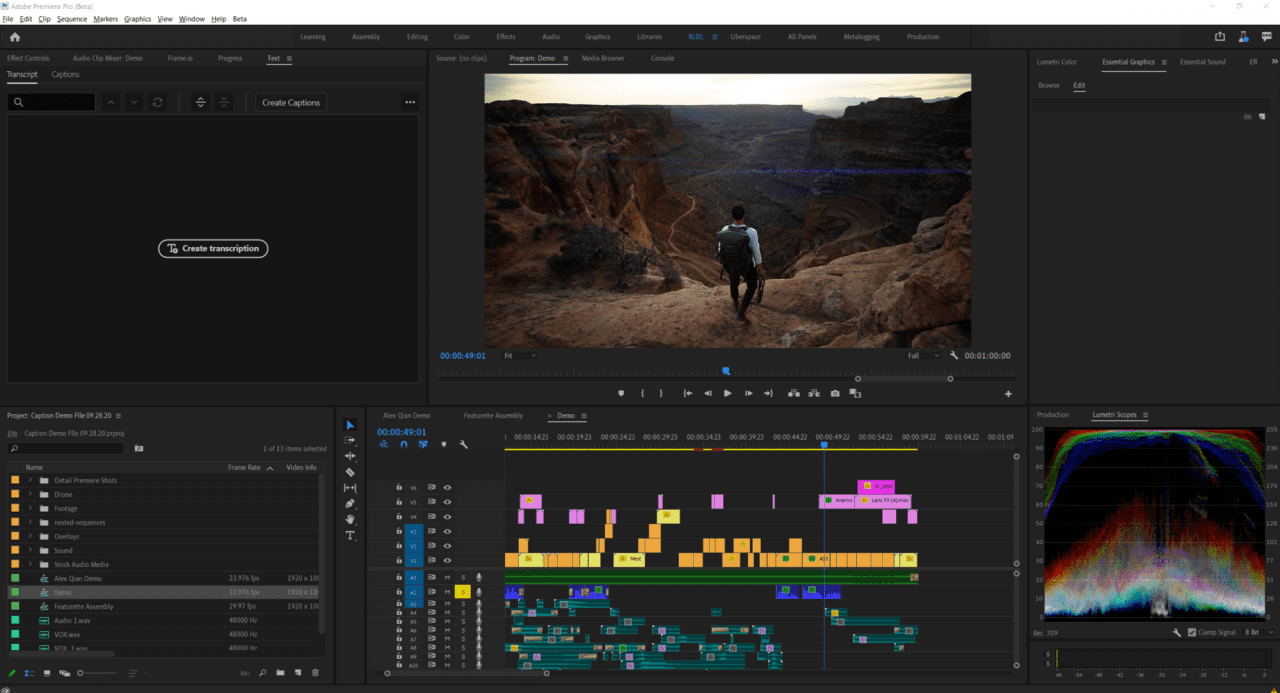 Customizable captions
You will also be able to make your captions look better using the Essential Graphics panel. Customize and stylize captions just like anything else. They exist on their own "caption track" in the timeline and can be edited with the same tools you use to edit video and audio. You can also drag an SRT file onto the timeline.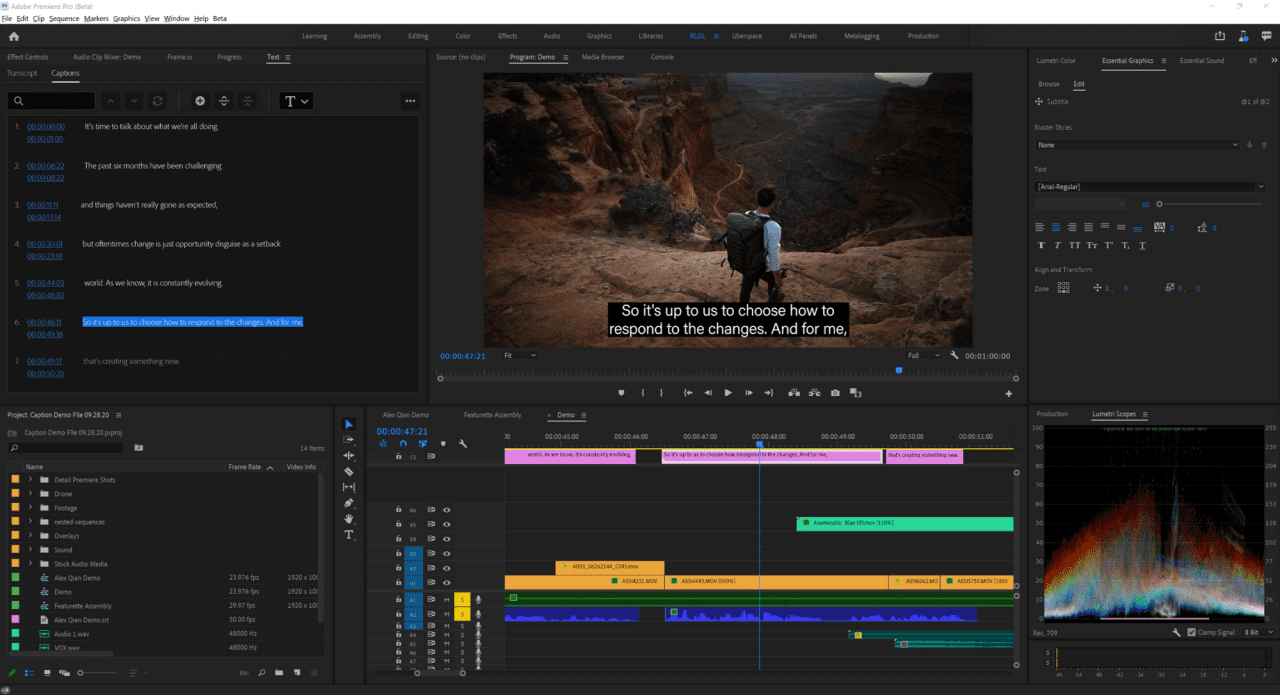 Premiere Rush
Premiere Rush also has new features in this release. Rush gets an enhanced browsing experience as well as lots of new royalty-free soundtracks and sound effects.
It also expands its graphics collection of titles, overlays and transitions. These new transitions include the popular push, slide and wipe.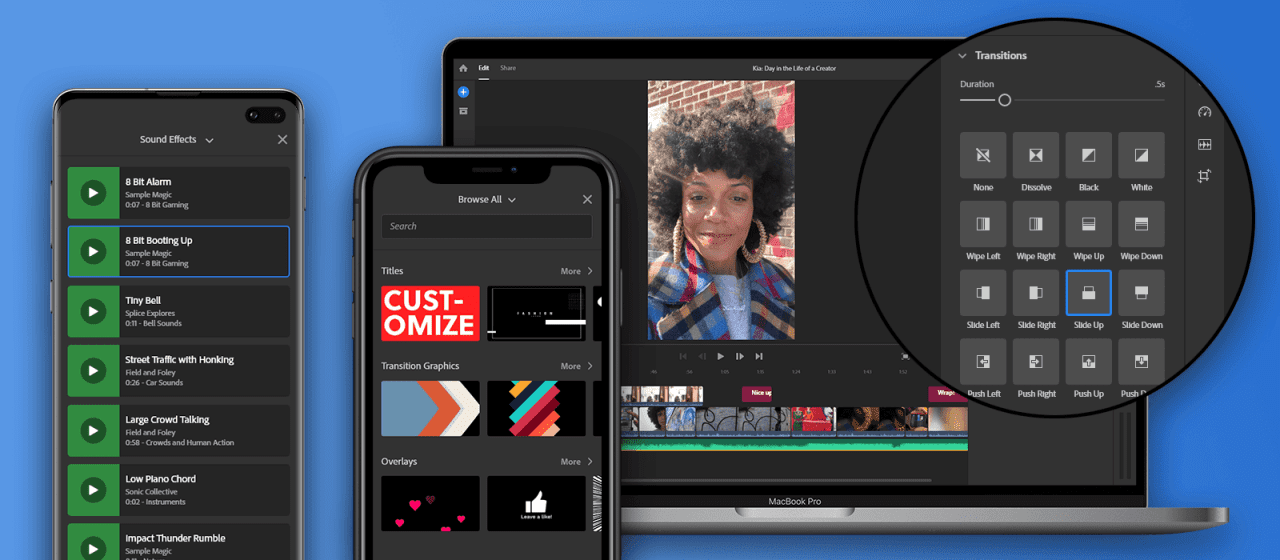 Perhaps the most used new features will be the new pan and zoom feature. This motion element will automatically add pan and zoom movement to your static photos, making your production more engaging in a matter of seconds.
Performance improvements across the board
This new release also includes major workflow and performance enhancements. Premiere and After Effects are receiving expanded HDR workflows. These platforms, as well as Media Encoder, now offer ProRes RAW to LOG color space conversion. In Premiere Pro, you can now work with embedded LUTs for ARRI ProRes color management. And, there is faster audio pre-roll for responsive playback on large projects. It's the little things that make me smile, like no more waiting for playback to start.
If you work on a Windows machine, there are a few more enhancements to note. There is now ProRes RAW import support. Also, new hardware (AMD and NVIDIA GPU) decoding for h.264 and HEVC formats offer greater performance and smoothness when scrubbing the timeline, etc.
To learn more about these features or other information on Adobe Software, check out the Adobe Max sessions. To go more in-depth on Adobe video tips and tricks, the fall Post | Production World is right around the corner!