Canon unveiled the Canon EOS R camera system today and it's truly amazing. I had the chance to try out a pre-release version of the camera and really explore its uses. The camera is Canon's response to Sony's A7 series and a much stronger release than Nikon's recent Z series.
The camera is appealing to many different types of users.  Those looking to switch to a full-frame workflow will love the quality and performance.  Those who already have invested in Canon lenses can bring them over very easily.  And video shooters will see a lot to love too.
What is the EOS R?
In case you missed the announcement, here's the short version.  The Canon EOS R is Canon's first professional mirrorless camera.  They kept the name EOS for a reason.  The EOS R is an addition to the Canon EOS system, not a replacement.
Same professional menu system Canon shooters know

Backward compatible with almost all Canon gear sold for decades

Actually offers improved workflow and performance of many EOS lenses.
Check the best prices here and get your preorder in.
System specs
The spec sheet with comments:
30.3MP Full-Frame CMOS Sensor – On par with the 5D Mark IV
DIGIC 8 Image Processor – This is Canon's newest Image Processor
UHD 4K30 Video; C-Log & 10-Bit HDMI Out – This is the highest quality 4K with the flexibility of Log recording (and extra cost option on the 5D) and the ability to record higher quality formats with an external recorder.
Dual Pixel CMOS AF, 5655 AF Points – Incredibly fast autofocus
3.69m-Dot OLED Electronic Viewfinder – It's very bright and easy to see in bright light.
3.15″ 2.1m-Dot Swivel Touchscreen LCD – it's easy to swivel and position for a variety of shooting positions for both still and video.
Expanded ISO 50-102400, 8 fps Shooting – The sensitivity and lack of noise are great. The camera also has a faster frame rate than the 5D Mark IV.
Wi-Fi and Bluetooth, SD UHS-II Card Slot – Using the Canon Wireless app is helpful.

 

The camera has a single slot (where many hoped for two).
Multi-Function Bar – More on this later…. it is awesome and so easy to configure.
Dual Pixel RAW – This is a cool improvement first added to the 5D Mark IV.

 

Dual Pixel Raw (DPRAW) files. Images shot as DPRAWs have conditional adjustment possibilities when processed with Canon's Digital Photo Professional image processing software, which enables pixel-level adjustment and refinement for still photographs and includes Image Micro-adjustment to help maximize sharpness in detail areas, Bokeh Shift for more pleasing soft focus areas and Ghosting Reduction to help reduce aberrations and flare.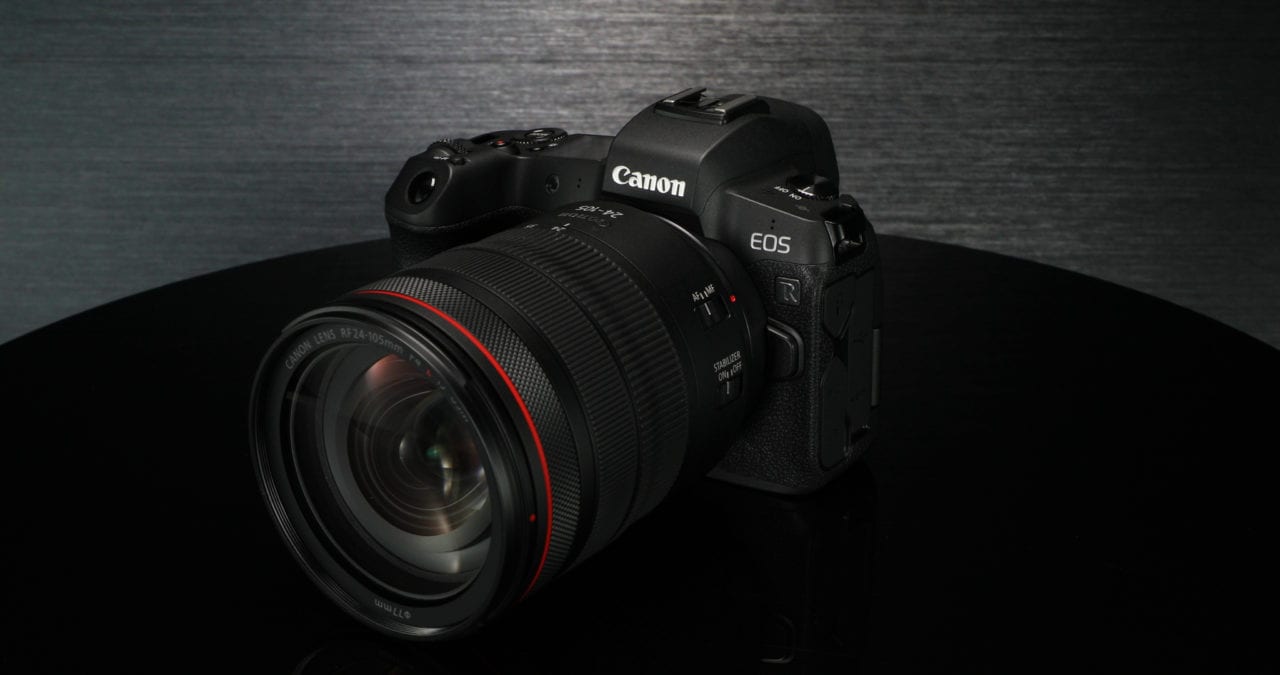 How does it feel?
One of the most important aspects of any camera is the feel of the camera in your hands.  The weight and grip of this camera is incredibly comfortable. I found the controls easy to navigate and the grip and finish to feel perfect.  This is a high-quality camera, that's both at home in a pro's gear bag or for an advanced enthusiast. The dials and controls on the camera are easy to reach for both small and large hands.  The displays and viewfinder are easy to see and adjust. The Control Ring is incredibly useful too (more on that in a second)
If this is all new, why is it an EOS camera?
The EOS R is a big change for Canon.  The camera is a high-quality mirrorless camera.  Canon previously only offered mirrorless on its smaller consumer-oriented cameras.  While the foundation of this system is a whole new lens mount and some great new lenses, the camera is fully compatible with existing EOA lenses. There are three optional Canon Lens Mount Adapters, so you can use your existing Canon EF and EF-S lenses, with practically no limitations. 
Using your existing Canon EOS lenses
The EOS R can use the following existing Canon technology
Canon EF lenses

Canon EF-S lenses

Canon TS-E lenses

Canon MP-E lenses

Canon

 

EF Tele Extenders

Canon EF Extension Tubes
You cannot use
Canon EF-M lenses

CN-E (Cinema EOS) lenses
Details on the lens adapters
Canon has announced three new lens mount adapters, to attach Canon digital SLR lenses onto the mirrorless EOS R series cameras.  These adapters are easy to use and offer some cool workflow benefits.  You'll see no change to AF speed, infinity focus, image stabilization.  There's also no light loss, and the lens's wide or telephoto coverage remains the same.  The adapters also have no optics in them and no AF mechanism, so you get native coverage and performance.
This adapter is sold as both an optional accessory and is often bundled in kits. This is the basic adapter.
This adds the new Control Ring that's found on the new EOS R lenses.  It's a separate, programmable Control Ring on the lens, for instant exposure adjustments or can be programmed for other features wish as exposure compensation or aperture changes. 
This adapter will be sold in two versions, with drop-in Circular Polarizer Filter, and with a drop-in Variable Neutral Density Filter.  Both also include a clear glass drop-in filter, you can shoot without filtration effects. This adapter provides an extra level of protection to the camera sensor (cutting down on dust and debris) during lens changes.
What about EF-S lenses?
If you're using Canon's EF-S lenses, these are for DSLRs with the smaller, APS-C size image sensor.  When you attach an EF-S lens to the EOS R camera, it immediately detects that it's an EF-S lens.  The camera automatically crops the full-frame sensor to give you the same 1.6 times crop factor that the lens was designed for.  This is useful for shooters who own glass and haven't the budget to immediately switch to full frame lenses at the start.
What new lenses are there?
To support the new EOS R system, Canon has announced some great new lenses that work just with this system. The Canon RF lens mount retains the same 54mm inner diameter as the current Canon EF mount. But since the EOS R is mirrorless, the mount is moved much closer to the image sensor.  This opens up some incredible performance gains.
The rear element on the new RF lenses is larger in diameter than any previous lens designs.

 

This improves image quality at the corners and outer edges of the frame.
A larger rear lens element results in the front section of lenses being smaller.

 

This means improved performance with less bending or refracting of light rays within the lens.

The mount uses 12 electronic contact (up from 8 on EF and EF-S lenses).

 

This means the lens-to-body communication speeds are the fastest of any Canon EOS camera. This enhances current features like AF and Image Stabilization.

The Control Ring on RF lenses or adapters allows for fine adjustments including 1/8th stop aperture control.
The RF 24-105mm F4 L IS offers up to five stops shake correction.  It is much smaller than the EF version.  Is also offers Canon's Nano Ultrasonic Focus Motor which makes autofocusing incredibly smooth for both video and still imaging. The F4 maximum aperture is constant through the zoom range.
The RF 50mm F1.2 L offers a popular 50mm focal length.  With an aperture of f/1.2, this is great performance and should be the standard lens for available-light shooters.
This is a compact lens that offers a wider angle field of view.  The aperture value makes not a solid performer for available light shooting,  It also adds macro focusing down to half life-size magnification. At its closest focus distance of just over 6 inches, you can fill the frame with a subject the size of a business card. 
This lens is a first. While the 28-70mm has been a photographer's workhorse… it's never been available at F2.  This is a sign of quality to come.  Canon expects that all EF lenses to offer optical performance to match or exceed the image quality of its fixed focal length lenses.  This lens is essentially a variable fixed focal length lens, not just a wide-to-tele zoom. Canon expects that the optical quality matches the sharpness and contrast of many pro-level, fixed focal length lenses. 
Controlling the camera
The camera offers a collection of traditional, as well as new and innovative controls.
Main dial
The main dial is located on top of the camera.  It allows for changes like aperture in Aperture Priority mode or moving from one Menu screen to the next.  For the most part, it's like the Main Dial on current EOS digital SLRs.
Quick Control Dial
The Quick Control Dial is located at the top of the camera, facing rearward. This can be used for adjustments like Exposure Compensation.  You can also press the Mode button and then turn the Quick Control Dial, to pick an exposure mode.  You can make changes with the camera at your eye, and see the choices in the viewfinder.
Cross Keys
Use the 4-way Cross Keys to manually move an AF point up, down, left, or right. You can also move AF points by just tapping the touch-screen LCD monitor.
Multi-Function Button
The Multi-Function Button is near the shutter button. It takes the place of manual controls that were accessed by buttons on the top panel.  You can choose your AF Operation setting, set Single Frame or Continuous Drive, or pick a different Metering pattern. This button isn't active by default, so you'll have to go into your menus to set its functions and modifiers.  The bar offers a safety lock that requires a touch and hold or a cover for a certain time period to prevent accidental changes when the camera is pressed to your face.
Control Ring
This is a new control and doesn't replace the conventional manual focus and zoom rings found on camera lenses. The Control Ring gives you instant exposure adjustment, with your left hand. Use the ring to change lens aperture, shutter speed, ISO, or Exposure Compensation. This frees your right hand to perform other tasks – such as the shutter, or starting and stopping video recording. To get started, go to the EOS R camera's Menu, and in the Custom Functions area, choose the fourth Menu screen, and select "Customize Dials." 
The bottom

 

line
The technological improvements and backward compatibility make it a welcome addition to the EOS lineup.  Any shooter, from pro to advanced amateur will find this an easy way to add full-frame shooting to their workflow.  The ergonomic and performance improvements to the camera are impressive, but most important are the fundamental changes in lens technology which herald positive changes to come.
Highly recommended.
Check the best prices here and get your preorder in.