What do you think would make the best street photography bag? Something that blends in, is compact, durable and accessible? Well, that's it for me and this Think Tank's sleek and stylish shoulder-bag was more than what I could ask for! I have to say that besides a little ID holder, I've never really dealt with anything Think Tank related. I've heard of their reputation as a quality brand that's trusted by several photographers that I know and have seen, so I'm pretty excited to have one in my own hands.
The Impression
The Retrospective 5 arrived well protected and neatly packed by the people at Think Tank, so it's refreshing to see a company taking care of their products and not just shoving it into a box to be shipped. I've got to say that I'm seriously impressed by the quality of the materials that are used to construct this fantastic beast of a bag. Right out of the box, one could feel that this isn't any old bag you can buy at Walmart. The craftsmanship of the bag absolutely tough. Which makes me think about tanks. Hmm, Think Tank… makes sense. The water-resistant fabric is pretty dang good looking in Pinestone, which has a kind of olive-greenish-kind-of-sandstone look and definitely doesn't resemble a typical camera bag. I'd say that's probably one of the best features of this specific bag! The bag also comes in black and a pretty neat blue.
Oh, and did someone ask for pockets?! This thing has like 500 pockets! Pockets for everything and everywhere! Pockets to lose stuff in! Seriously though, you could probably misplace stuff in how many pockets there are. Now imagine how many granola bars, Slim Jims, and other necessary items you can stuff in there! Simply amazing! Also, I didn't read the description carefully when I ordered this, so I was surprised when I found a little something in one of the pockets– a rain cover! Now that's sweet.
The strap one of the features that stuck out to me. I really don't like thin straps, they tend to cut to the bone on my frame. This baby came with a pretty awesomely made strap AND a freakin awesome shoulder pad– probably the best one that I've seen yet! It's got some tackiness to it, just enough that it stays on your shoulder. It slides up and down the adjustable strap. I'm about 6 feet tall and am pretty slender, and this fit comfortably across my shoulder down to a comfortable level on my hip. My body felt like it was missing this little piece from it. Oh, and it'll adjust to be longer if I wanted it to.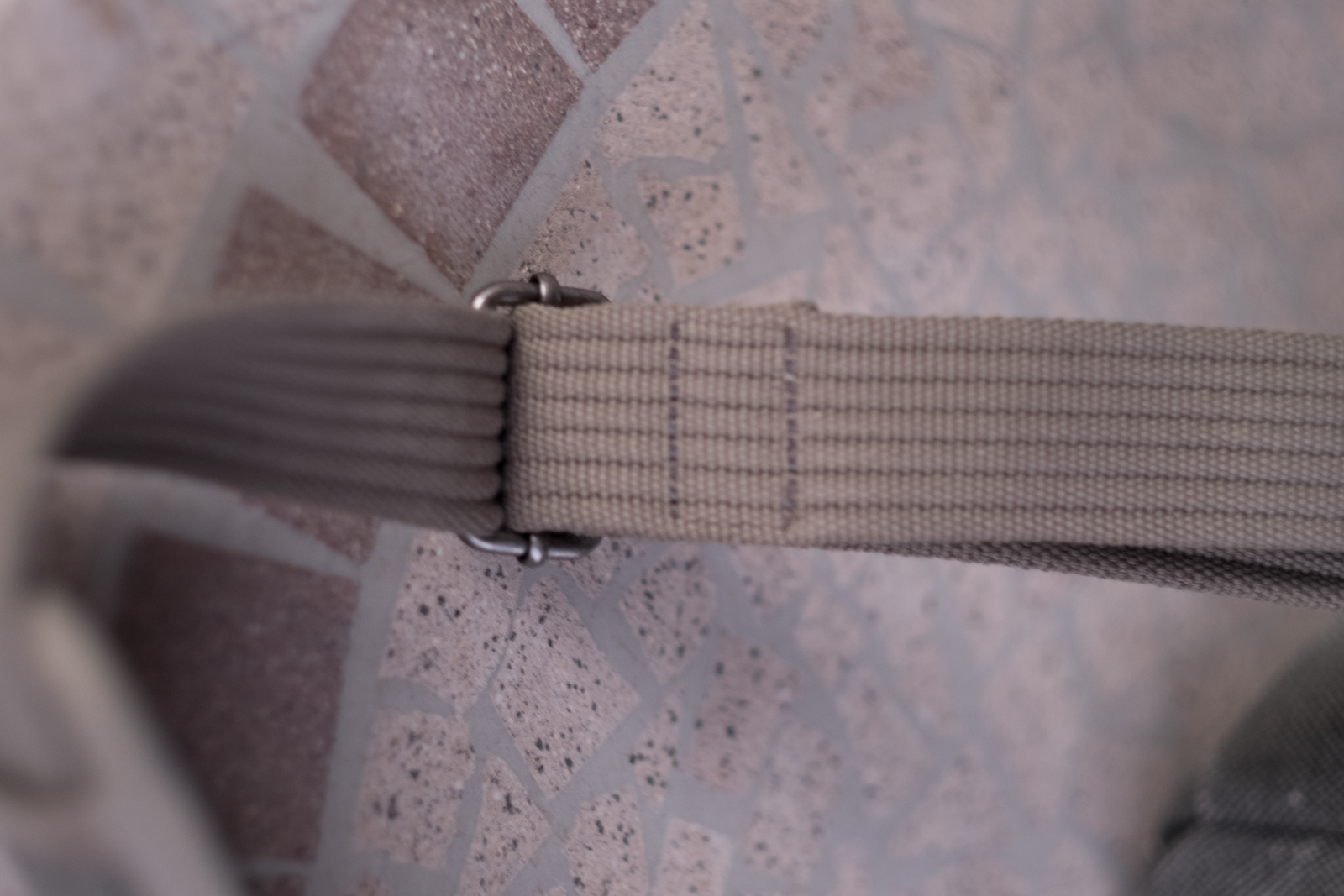 That bag found it's home. Also, there's a little grab handle that I found to be oh-so-useful! Sometimes, you just gotta grab the bag from off your body and throw it in the car or pull it from the front seat floor without spilling everything out of it. I don't know if that handle was made specifically for those two functions, but it was perfectly made for that in my eyes.
There's some two sets of heavy duty hook and loop fasteners that hold the flap to the bag, along with a one more patch securing another pocket in the front. They seem pretty well secured. I haven't tried annoying my friends with the sound of the fasteners quite yet, but I'd imagine that the durability of the fasteners would withstand quite a beating.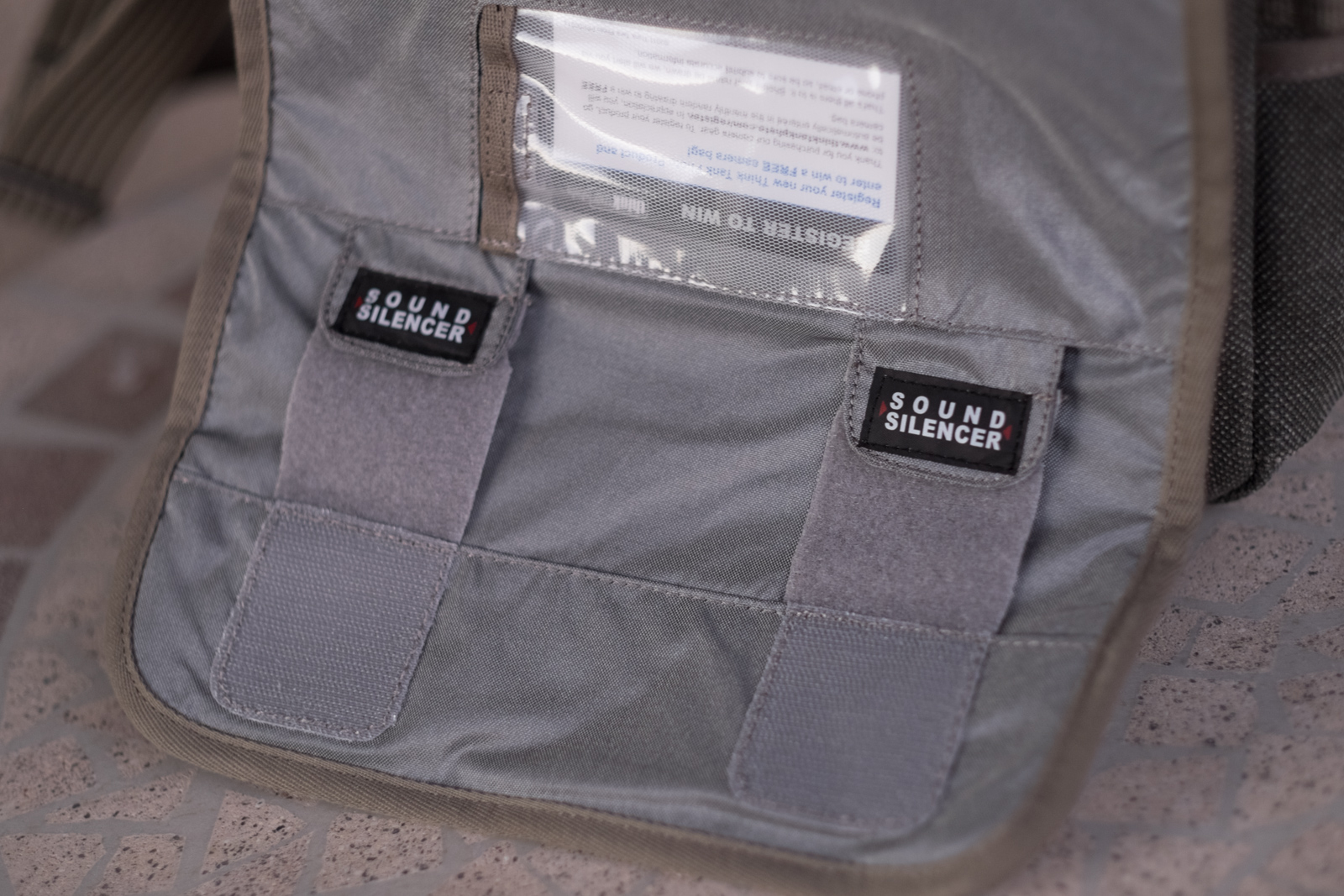 An appreciated feature that I probably wouldn't use much is the Sound Silencers that Think Tank provided for those who hate the scratchy sound. Essentially, its another set of loops that over the hooks on the flap and disable it. This way, the flap covers the opening of the bag, and one can sneakily grab his or her camera from out of the bag in quiet places. There's also a nice little placement holder for the outer pocket's fastener, which keeps it out of the way if you don't need that kind of security.
The Test Drive
I did take this for a good little test on the street and what better place is there to test test it at other than the Las Vegas Strip?! I securely placed two mirror-less cameras, two lenses, my wallet, my business card holder, a battery charger and its cable, my iPhone, and still had some ample space for more random stuff, like a small bottle of lemonade. The bag wasn't cumbersome by any means, and securely maintained all the expensive goods through all the random activity– running, skipping, spinning, opening, closing, re-opening, switching lenses, closing. I'm pretty sure I'd walk around with this all day. I'd say about a good 98%.
After walking around and taking pictures for the night, I was surprised that my shoulder wasn't strained or sore. My legs were definitely more sore from the sheer amount of walking that I did. I've got to say that I found this to be super comfortable for me. There wasn't much dust or debris that ended up in the bag after the walk, which was one of my concerns of owning a shoulder bag here in Vegas. I noticed that there's some extra material flaps that help protect anything from directly entering through the top gaps of the bag when the flap is closed.
Verdict
This bag definitely attracted attention, but not the kind of attention where someone wants to come up and mug you (because they know it's a camera bag). People who knew me would ask what was in the bag (since I normally never carry a shoulder bag). When I told people that it was a camera bag, they never suspected it! A few of them said that they'd totally get one for themselves! So needless to say, it passed off as a very desirable and inconspicuous bag. I feel that it protects my gear well, both the mirror-less system as well as my 5D Mark III, along with the other gear I put into it.
It really just looks like an awesome and modestly sized messenger bag. Theres only one thing that I think some might freak out about. If you're using the sound silencers, you may or may not dump your bag if you're not paying attention you reach or bend over. Or sometimes, if you put the bag on the car floor and it tips over, you might lose some stuff– just like some purses. But otherwise, if you're aware of that, I'd say if you were to get one bag for the street, make it this one.
______