Now that my Lume Cube Photographer's Pack was unboxed, it was time for me to go in the field and give it a try! I got out from my comfort zone as I wanted to force myself to work in a different way than I was used to. What did I end up photographing and how did I like working with my new lighting system?
Inspiration
First, I needed to get some inspiration. As I really wanted to give all the attention to the Lume Cubes, I thought it could be a really cool idea to take the pictures in the dark. Then, I had to find a place I could make those ideas a reality. Luckily, a good friend of mine owns a yoga studio. She was kind enough to lend it to me for a couple of hours. My friend Krystina and her friend Kathia — two dancers — were my models.
Getting ready
Now that I had a setup in mind, I knew what I had to bring for my photoshoot: A black fabric background, my Lume Cube Photographer's Pack, a tripod, a Platypod and two light stands.
Image 1 – Duality
Krystina and Kathia were sitting on the floor. I placed the Lume Cubes straight on the floor, on either side of them. The right one had a blue gel on and both had a diffusion bulb to soften the light. This was taken with a shutter speed of 1 second. I asked the girls to look at the camera and then quickly turn toward each other. This is what creates the duplication effect.
Image 2 – Sketched silhouette
For the sketched silhouette image, I asked my model to choose a comfortable pose. I knew she would have to hold it for several seconds. Still with my camera on a tripod, I asked Krystina to take both Lume Cubes in her hand and move it right behind Kathia. Both had a diffusion bulb on and the left light had a blue gel as well. With trial and error, we found that a 10-second exposure was best for the effect we wanted. I really like this image, as the light sketching makes it eye-catching and powerful.
Image 3 – Reflection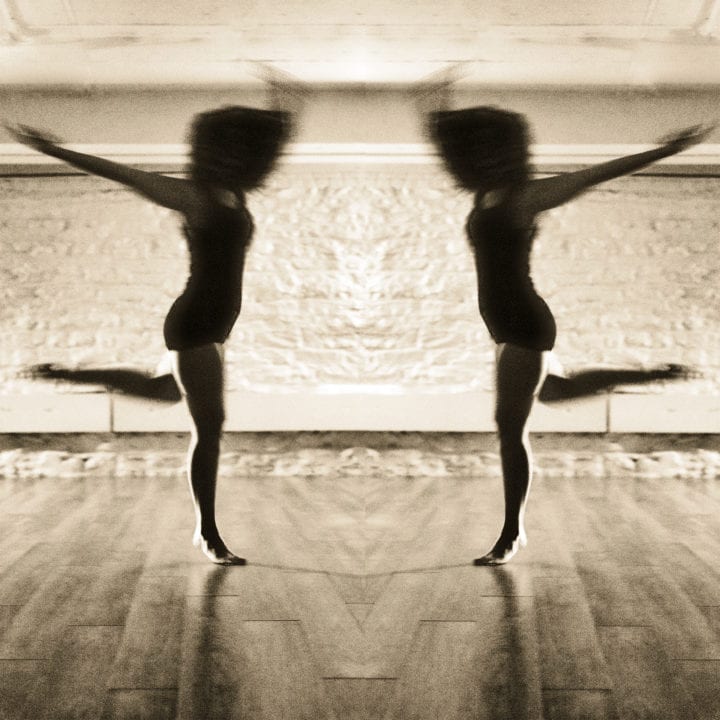 I'll be dead honest: This image was underexposed. I thought it looked good on the back of my camera but once I imported it on my computer, it was like if Kathia's body was merged into the background. Since I was in a creative mood, I decided to go all in with my post-processing just to see what I could end up with.
I opened the picture in Luminar 2018 (as I did with all the other images in this article) and played with all kind of filters. Of course, I bumped up the exposure, exaggerating it in a way I'd never do in my regular images. It was for creativity's sake so I was fine with it! I added even more grain/noise and decided to duplicate the dancer's body in a mirror effect.
Both lights were placed on a Platypod on either side of the dancer. I put them on the top of the studio's shelves close to the background wall. I angled them towards the floor with the ball head mounts. Kathia was backlit and this is what created the silhouette effect (the light was coming from behind her).
Image 4 – Free
As the photoshoot was going on, the first Lume Cube took its last breath. I enjoyed using the blue gel and forgot that the battery wasn't lasting super long when used at full power. I had to change position to continue with my only one left. I chose to have a lot of negative space since the studio was completely dark.
I decided to put a CTO warming gel on my Lume Cube topped with a honeycomb grid. I wanted to light only Katia and didn't want the light to spill all over the place. CTO gel gave me a nice sepia tone and the negative space inspired freedom.
Must all good things come to an end?
As you can see, the only small downside I've experienced is the relatively short battery life when the device is turned on full power. If you plan on needing a very powerful light for an extended period of time, I suggest you might either get a couple extra devices (so you can switch and recharge along your photoshoot) or consider another lighting alternative. The devices are also very small which gives a pretty narrow light beam. For my next experiment, I will either find a way to bounce the light to make it broader or use it as an accent light instead of the main light.
I had a lot of trial and error through this photoshoot. I wasn't in my comfort zone, but that made me stop and think and a lot more than usual. This has been a great challenge and I am glad I did it. Even if it took longer than expected and I got less good shots than I hoped for, this was a highly educative experiment.
Sometimes, I tend to get too comfortable at things I repeatedly do. I forget all the different aspects of photography and how technique changes from a style to another. I encourage you to do the same once in a while. It keeps us on our toes and reveals ideas we might never have otherwise. Grab a few friends, a couple Lume Cubes and get creative!