Ive been on the hunt for a new camera bag for a while now. (Actually, ever since all my gear was stolen about a year ago. Sidenote: Insurance is amazing!) Pretty much every bag is expensive and pretty much every bag just doesn't work. Well, there was a Camera Bag Angel who decided to take mercy on me when the wonderful people at ThinkTank offered us at Photofocus the chance to review some of their products with some real world testing.
I do a fair amount of travel, and when I do, its almost exclusively for work wether it be a destination wedding, going to help another photographer, or collaborating on a project in a remote locale both domestic and foreign. So its safe to say that I could make good use of ThinkTanks Airport International V 2.0 Rolling Camera bag.
The main specs say:
-Its designed to fit both domestic & international carry on bins
-The combo zipper lock is TSA approved

-Has rear & front security cables for tethering to immovable objects (if only my old bag had this!)
-Has an integrated security plate ID you can register with TT so you back can be returned if found
-Holds a ridiculous amount of gear
-Handy tripod/monopod accesory straps
-Easily customizable interior padding with optional shallow padding to accommodate a laptop on the interior.
-Replaceable wheels
Already things sound pretty promising, right? But Ive been disappointed in promising looking bags before, so I was trying to not get my hopes up as I anxiously awaited the delivery of my bag. When it finally arrived I put it to work immediately with a wedding the next day. One thing I really like about it is that it is large enough to be a daily gear bag even though it was designed with travel in mind.
Impressions of a Wedding Day workflow:
My gear fit nicely into the bag. I shoot with a medium amount of gear. Two 5dMkii bodies, 70-200 2.8, 35, 50, 85 primes, 50 macro, & 580 exii flashes. Probably my favorite feature of the gear arranging is that there are two slots that easily fit a camera body WITH a lens attached. So many bags don't adequately accommodate this and there are a plethora of times that Id love to put one of my bodies down, (but still have quick and easy access to it) so this is a big plus feature to me. The panels were easily adjustable to snugly fit each lens, and customizing it even gave me extra room for adding my ba
ckup flash units, quantum flash packs, & cache of AA batteries. I didn't realize how nice it would be to have the translucent, zippered storage pockets on the lid of the bag. I could easily see where I had stowed body batteries, lens cleaning supplies, cables, and lens and body caps. The front pocket organizer was awesome to easily access my shot list, pen, & extra media cards without having to dig into the belly of the bag. As for the wheels, (oh the wheels!!) I was thrilled. They are so dang quiet! Many of my previous bags had wheels that you could hear coming from a mile away. These were smooth & quiet, which
was a huge advantage for this particular wedding as it was at the National Cathedral (a.k.a. the place where a pin dropped sounds like an elephant jumping rope). Also, the wheels were fairly maneuverable off road over a slate & grass path. Obviously, the wheels aren't exactly made for that, but they handled it reasonably well. At this point, I was appreciative of the scuff guard on the bottom/back of the bag so that rocks & debris wouldn't scratch or tear the material of the bag. I was also appreciative of the detailing of the zippers. Made of 1680D ballistic nylon
and abrasion resistant materials (aka: strong as heck) the zippering action was smooth and felt incredibly sturdy.
The only feature I have yet to warm up to is the way the bag opens. The front lid is flexible (which is great when youre cramming it packed with everything you have) but I found it a little awkward to deal with as it would sag and droop (and not stay up) if I leaned it against a wall leaving me to basically exclusively open it and lay the lid on the ground. I would have preferred some sort of way to make the lid a little more rigid (or to have tethers on the bottom corners that he lid can counter balance on when open) so it didn't have to go on the floor getting in and out of the bag. Pretty minor thing, and perhaps something I just need to use a little more to get a feel for, but something to note nonetheless.
Impressions of work travel:
This bag was awesome to travel with. Hands down, best bag Ive traveled with. Ever. As I said before, the wheels floated through the airport making a heavy bag really rather effortless to deal with. Everything is also balanced so well on the bag that even when it is full, theres no threat of tipping when its standing. The sizing of the bag was exactly right for carry on dimensions and better yet, visually, it just looks appropriately sized so no gate attendant or official personnel gave it a second thought. (Phew! I always panic that some gate attendant is going to make me gate check a gear bag and there will be a fight about it.) The bag maneuvered easily down the center aisle of every plane I was on and even on the tiny MD-88, it fit perfectly into the overhead compartment. I have to also say that the skid plate & side handle were also key details that allowed the hoisting of the bag overhead to go smoothly. On another note about the wheels, I have to give ThinkTank some mad props for designing the wheels in such a way that they aren't cumbersome in the overhead bins, or stuck out precariously to get caught on anything or bent. Lots of bags overlook this d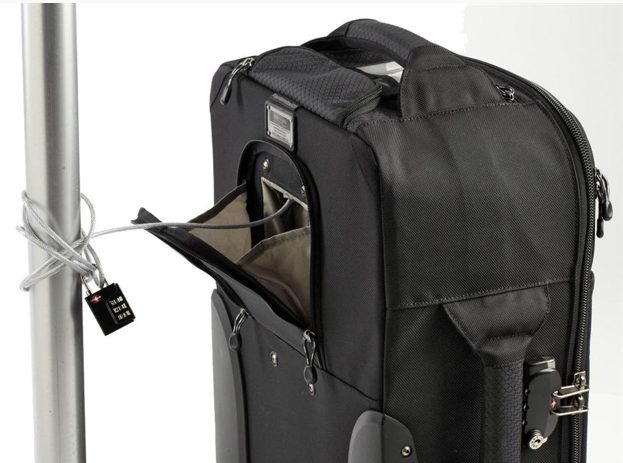 etail, I think, but not this one! I also appreciated how relatively inconspicuous this bag was even with the locking tether you can use. I always look for photo bags that don't emblazon in huge lettering REALLY EXPENSIVE STUFF INSIDE! STEAL ME!! but you still never know who could mosey up next to you and just walk away with the bag the second your focus is turned. The cable was discreet, easy to use, and a nice method of securing piece of mind.
Perhaps the only thing Id like to be a little different about this bag is that I wish the shorter interior padding spacers were standard instead of optional, so that I could always fit my laptop inside the case. For this trip, I
had my 15″ MacBook Pro in a small case and I was able to shove it down the front flexible pocket (which is really cool) and lock it to the front tether of the bag. This is doable, however, I'd feel more at ease with the laptop inside for extra protection. Plus, in the MD-88 I ended up having to take the laptop out of the front pocket to fit within the height of the overhead bin. Therefore Id recommend anyone buying this bag with the intention of traveling with a laptop to just go ahead and order the shorter spacers.
In Summary:
The Aiport International 2.0 is a bag that offers great bang for your buck. Its not just a travel bag but also highly usable for day to day shooting needs. It has true harmony of form & function that won't disappoint. Hooray!
Lisa is a D.C. based wedding & portrait photographer. Follow along on !