As a kid, I remember my parents asking me to pick up some RAM for our business while I was on a family vacation…I don't remember how much it cost…but I do remember that the 16k of ram that I had picked up was on two boards about the size of a Wacom Small Tablet each!  So when I stop to think about where we've come from and where we're going with the amount of memory we're able to compact in these Hard Drives and Memory Cards now just blows me away.
Looking back at some old articles about the first computers, it's pretty clear to see how far we've come! Below is just 5MB of disk space…..look at how huge that thing is and it takes a forklift to move!!! It took a device that large, to hold LESS data than a single photo from an iPhone 6!!!!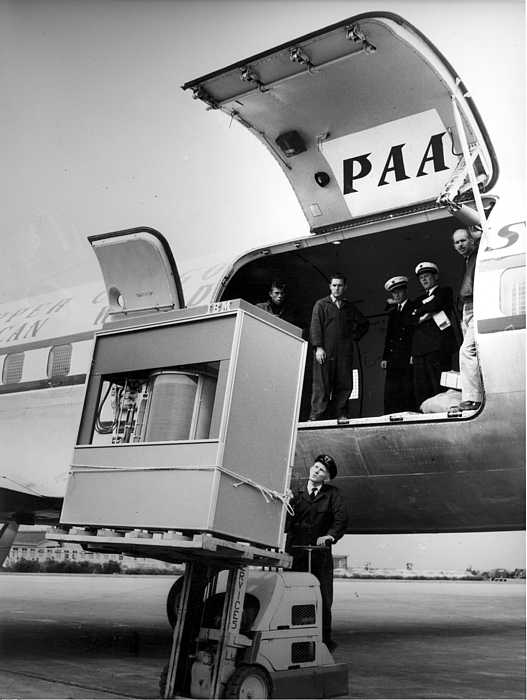 By Contrast, years later, while we improved…it wasn't _that_ much better…as seen here, we have a 250MB Hard Disk from 1979;
So when you think about it…it's almost like magic what we're able to do with devices so small today. Our smart phones have more memory in them than we were able to cram into a commercial airliner just 50+ years ago!!!!
Recently I got my hands on the new UHS USB 3.1 Card reader($19.99) and UHS SD Memory Cards($69.99) from Transcend and after a few months of using them to shoot photographs and video on my D800 & D500…i'm in love!
To quote the team at Transcend, "Transcend's SDXC/SDHC Class 3 UHS-II SD cards are designed for today's UHS-II compatible DSLRs and camcorders to bring out the real high speed performance. Featuring the incredible read and write speeds of up to 285MB/s and 180MB/s* respectively, the cards allow professional photographers and videographers to capture flawless RAW images and ultra-high quality 4K, 2K and Full HD videos." and it doesn't disappoint.
Regarding the Card reader, "Taking full advantage of the UHS-II technology, the USB 3.1/3.0 UHS-II Card Reader unleashes the high-speed performance of SDXC / SDHC UHS-II memory cards. Equipped with USB 3.1 Gen 1 interface, the RDF9 delivers the blazing fast read and write speeds of up to 260MB/s and 190MB/s accordingly*, facilitating high resolution video and RAW image transfers and post-production processing for professional photographers, videographers and graphic designers. Additionally, it also boasts the CompactFlash, microSD and Memory Stick card slots, offering you to transfer different types of digital files with one compact card reader."
As a pretty avid photographer and videographer, I often struggle with HD space and it's read/write times…so one of the great things of these super huge, fast, and small cards, is the ability to just plug in and provide more space for your short term (and even long term) computing needs). As my friend Mykii mentioned in his article recently about the new Micro SD cards he's been using, a Great us is to plug them into your MacBook Air/Pro's memory card slots to increase your available storage at a far cheaper (and faster) cost vs buying a new Internal SSD or SATA Hard Drive for your computer. Short term or long term, it doesn't matter as the expansion possibilities are nearly endless for the price.
When it came to shooting, well, i've been putting this beast through the test over the last few months in my Nikon D800, D500, and Leica S systems. Recently I was photographing the Star Trek: Mission New York convention for ReedPop and CBS where over the course of 4 – 10hour days, I shot & delivered over 7,000 images using the Memory cards and card readers with edits on site! Using the card readers blazing speed (and compact size) I was able to dump my memory cards in between sessions and apply quick bulk edits before popping the cards back in my camera to head off to the next event. This was all in just minutes! Previously for events like this I wouldn't deliver until the next day, OR i'd have to run with several back up cards to swap out after each shoot!  In the fast paced world of event photography & videography, speed is king, and the cards from Transcend delivers!
Using both AJA and BlackMagicDesign's memory test applications with various file size settings on my 2012 MacBook Pro with an Intel Core i7 2.6GHz processor, i'm getting an average write speed of 120MB/s and average write speeds of over 200MB/s using the USB3 connection and Card Reader.
For the artist on the move, I can't recommend the Transcend UHS memory cards and readers enough. I can honestly say they saved my tail on some of my more recent high pressure & high speed turnaround photoshoots. And after a LOT of stress testing, both in the field, and via device test software at home, I can say I use them without worry of failure or corruption of data!
Check the price and review on B&H here;