As I was editing this afternoon and editing/saving all of my RAW files to JPEG files in Adobe Photoshop, I felt a little foolish. I've been saving my JPEG files into formats that I really don't know a lot about. So tonight I "geeked out" to truly understand just what type of jpeg format was best for me.
The options
When you save your JPEG file in Photoshop, a box will pop up before saving.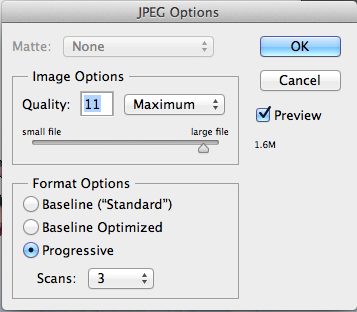 Adobe's help center describes "Format" as how the file is displayed online, but only in JPEG format. It also explained a little more in detail each format option.
Baseline (Standard): Displays the image when it has fully downloaded. This JPEG format is recognizable to most web browsers.
Baseline (Optimized): Optimizes color quality of the image and produces smaller file sizes (2 to 8%) but is not supported by all web browsers.
Progressive (3 scans-5 scans): Downloads the image first as a low-resolution image, with incremental quality improvements as downloading continues.
Which option to use?
After reading more into it, "Baseline Optimized" might slightly reduce the file size but uploads slightly faster which is a plus in a visual industry such as photography. The only negative is that it isn't compatible with viewers using old technology, but I would hope that my colleagues and potential clients are up to speed with the latest web browsers. "Optimized" will also likely produce better colors but it isn't necessarily that noticeable to the eye.
"Progressive" reminds me of the old days of painfully slow browsers when photos loaded on a page of series of lines, so I choose to avoid that option.
So what is my choice? I've decided that both Standard and Optimized are fine options, it might just be a matter of choice, or in my case … habit. Thus, Baseline (Optimized) wins my vote.
What do you think? Have you had success with one over the other? Let me know in the comments below.